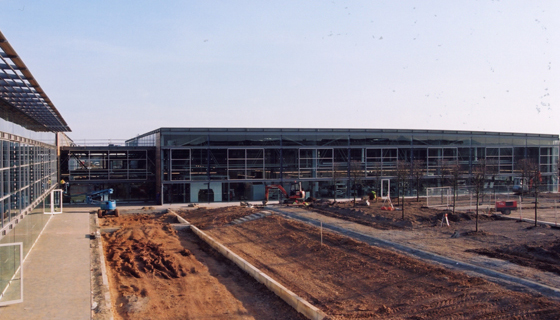 Rolls Royce Assembly Plant – Goodwood 2001 (£50M estimated construction value)
Clinton McHenry for WSP
Brand new vehicle assembly plant for the prestigious Rolls Royce vehicles.
7-buildings comprising Assembly, Final Assembly, Paint Shop, Storage, Service, Pavilion & Restaurant. Total floor area 35000m2 with the plant buildings of high quality architecture unlike typical motor vehicle assembly plants as it doubles as a working showroom for prospective vehicle purchasers.
Environmental and energy conservation considerations resulted in a base floor level 4 metres below ground level as well as a natural grassed roof surface.
Preparing concept structural designs to suit architectural schemes.
Providing alternative structural options for cost assessment.
Preparing design calculations for: composite and non-composite steel beams; steel columns; reinforced concrete slabs, retaining walls and foundations.
Assessing wind & snow loads.
Co-ordination of production of structural drawings for tender and construction.